Our Inshore Boats
At Quepos Costa Rica Fishing we have the finest selection of fishing boats. Our range consists of three boats and we are confident it is the best you will find in the region. We have used our extensive experience and knowledge of fishing to choose our boats. We know just what it takes to fish in this area effectively. Our fleet of boats is diverse so that all customers' fishing needs are catered to; whether you are looking to catch Snook by the shore or you want to enjoy inshore and offshore fishing on a larger boat. Let's take a look at each boat in further detail…
Thanks to the new twin Suzuki 250 motors, our Large Center Console is one of the fastest inshore fishing boats you will find. The boat and crew have an excellent track record as well. In April 2012 they caught a Black Marlin weighing a massive 500 lb. If you hop on our Large Center Console you are going to enjoy a thrilling and varied excursion. We will start off with inshore fishing in the morning, giving you the chance to hook the likes of Snapper and Roosterfish. Afterwards, we will move onto offshore fishing. Are you ready to test yourself against Dorado, Sailfish and of course the mighty Marlin? The boat itself is very roomy and there is a lot of space around the deck for fight fishing. It is perfectly suited for groups of up to five anglers.

---
Medium center console 27 FT.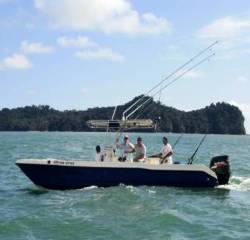 Our Medium Center Console boasts a Suzuki 140 outboard motor and contains Shimano reels, roads and a livewell. The fantastic crew on this boat have a reputation for making some of the biggest Snapper and Roosterfish catches. There is no one who knows Quepos waters better and thus you are going to benefit from the ideal opportunity to make the best catches. You will go to exclusive spots and have help from one of the best inshore fishing crews in the whole of Costa Rica. It is also worth pointing out that our Medium Center Console comes complete with Tuna tubes and outriggers. This means that you can participate in both inshore and offshore fishing.
---
The last of our Quepos boats is the Panga FT. If you want to get the real thrill of Costa Rican inshore fishing, this is the boat for you. Why? Well, it is extremely versatile and the small size of the boat allows you to get extremely close to shore. This allows you to try your hand at hooking large snook known to be in this area. The Panga 29 FT. is ideal for groups of two or three people and you will have assistance from two Quepos Snook fishing experts. It doesn't get much better than this!